Apple computers have a prolific history in video editing, having long been the choice of professionals and hobbyists. When Apple switched to Intel processors in 2006, image processing and video editing on macOS became even more popular, creating a demand for professional solutions for video production. In the beginning, Apple Final Cut Pro was the most commonly used professional Non-Linear Editing (NLE) solution, but slowly other companies, such as Adobe, Autodesk, Magix, Corel and Blackmagic, introduced their video-editing software products. Today there are dozens of choices from companies actively releasing new features and updates to make video editing on macOS a smooth experience, allowing for the creation of everything from quirky TikTok videos by hobbyists to award-winning movie masterpieces by production houses and studios.
The M1 Revolution
When rumors started that Apple planned to move from Intel processors on MacBooks and iMacs— which have long provided impressive encoding and export times—to the ARM-based M1 chipset, it created quite a stir. Industry professionals were skeptical as to whether this was a good move. However, with a stream of impressive benchmark testing results, the critics have quickly fallen silent.
The first Mac Mini and MacBooks featuring the Apple M1 processor (i.e., the first ARM-based SoC (System on a Chip) designed by Apple) were released at the end of 2020. In May 2021, a brand-new 24-inch iMac model—also powered by the Apple M1—was introduced. The first independent tests showed impressive benchmark results for both image and video processing times when compared to its Intel counterparts.
About the Apple M1 chipset
The Apple M1 chipset today comes with four high-performance and four energy-efficient CPU cores. In addition, the M1 offers up to eight GPU cores for graphics processing and speed. This results in incredible performance with extremely low power consumption which reduces battery usage and enables worker mobility.
To ensure that no x86 users were left behind, macOS Big Sur introduced the Rosetta 2 emulator. With the Rosetta 2 emulator, users can run software natively developed for Intel-based Macs on the new M1 chipset. In addition to making the transition easier for users, the Rosetta emulator has quelled the fear among software manufacturers that their products would no longer be compatible with the new Apple platform.
However, when Apple first announced its M1 chipset, very few companies had completely ported their software to the new Apple Silicon. One that had adopted the new chipset was the popular video-editing solution DaVinci Resolve Studio from Blackmagic Design, which was highlighted during Apple's November announcement.
Video editing using MainConcept codecs on macOS
Adobe has used the MainConcept® codecs in Premiere Pro on Intel chip-based Windows and Macs for many years. Our libraries power several key parts of the workflow, such as importing, playback and exporting video projects from the timeline. The MainConcept portfolio—which already included AVC/H.264, HEVC/H.265, MPEG-2, MPEG-4 Part 2, DVCPRO, multiplexer and audio products—now provides the same functionality for Adobe Premiere Pro running on the Apple M1 processor.
We took a simple and straightforward path to empower DaVinci Resolve Studio users, working closely with Blackmagic Design to develop the first approved plugin for their software.
MainConcept quality paired with Apple Silicon performance
The MainConcept Codec Plugin is an export tool for DaVinci Resolve Studio. Introduced earlier this year with DaVinci Resolve Studio version 17, the MainConcept plugin interface allows for exporting of video projects from the timeline. This ability to export directly from the timeline saves time, simplifies production and eliminates the need for transcoding. The plugin from MainConcept extends the set of render presets with:
Broadcast-proven professional Sony and Panasonic camera presets
Brand-new AS-11 UK DPP
Ready-to-use software HEVC/H.265 export presets up to Main-10 8K
With version 1.1 of the MainConcept Codec Plugin, MainConcept is not only offering a brand-new set of Panasonic P2 DVCPRO profiles but making the entire functionality of the plugin available for the Apple M1 version of DaVinci Resolve Studio.
Comparison of rendering times on Mac
In our lab, we compared the time it takes to render a project on an Intel Mac against an M1 Mac for the MainConcept presets. Tests were performed on a MacBook Pro (2018) powered by an Intel Core i7 (6-cores), 2.6 GHz with 16 GB RAM and a MacBook Pro (2020), powered by an Apple M1 (8-cores) with 16 GB RAM. Both laptops were running macOS 11.4 Big Sur.
To exclude effects and transition processing time, we used a relatively simple video project with standard source clips in H.264 720p, 8-bit 420, High Profile video with AAC-LC audio muxed into MP4 to the DaVinci Resolve Studio 17.2.1 timeline and rendered it to various formats.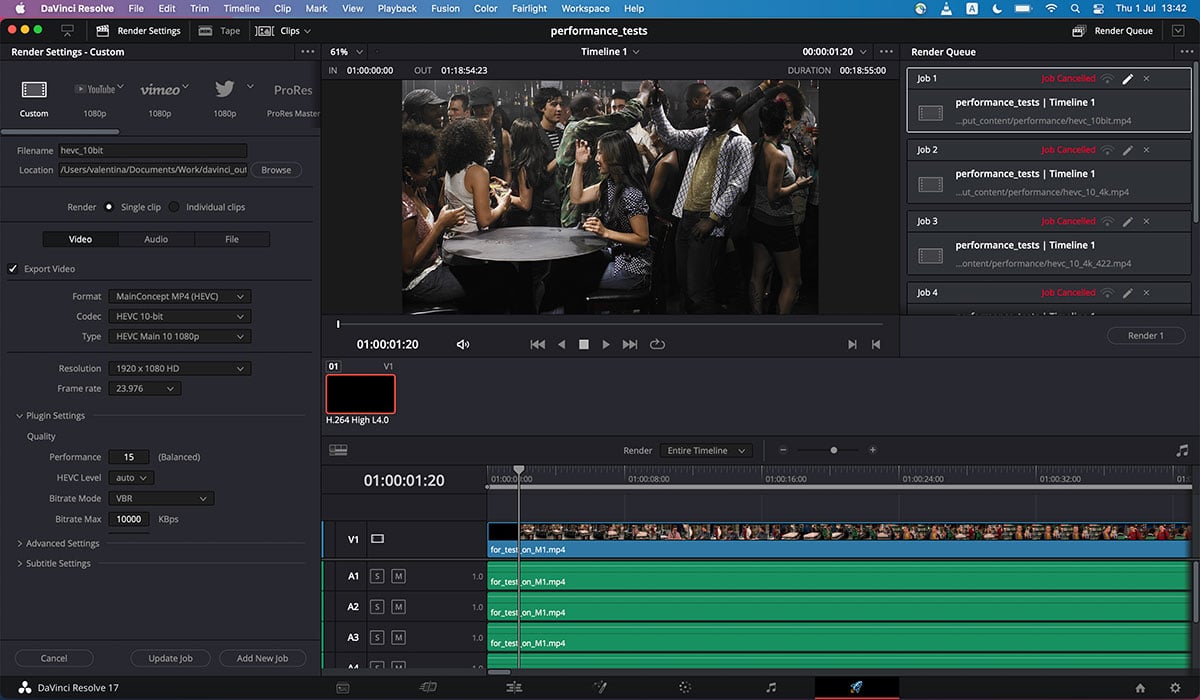 Using the default plugin settings for MainConcept HEVC 10-bit 4K Main-10 4:2:0 and HEVC 10-bit 4K, the M1 MacBook Pro showed close to 10% faster encoding time compared to the Intel-based MacBook Pro.

For professional Sony XAVC camera formats, the improvements are even more impressive. Rendering time on Apple M1 improves by up to 8% for the Sony XAVC Long GOP QFHD profile when exporting the timeline. But Sony XAVC Intra QFHD 300 CBG outperforms them all with a faster rendering time of over 20%!

As these tests show, the new Apple M1 chipset significantly improves processing time and allows convenient video editing. It is expected that these performance gains would be even higher on devices such as MacBook Pros and iMacs that are designed for resource-intensive tasks.
Intel x86 and Apple M1—MainConcept has you covered!
MainConcept makes supporting Apple M1 with the Codec Plugin for DaVinci Resolve Studio simple by pairing our world-renowned quality with both the flexibility and power of Intel-based architecture and the high-performing, low-cost Apple Silicon architectures equally. Buy it now or try it for free with the demo version of our Codec Plugin for DaVinci Resolve Studio!
If you are a programmer looking for Software Development Kits (SDKs) to create your own applications running on Apple M1, request a free evaluation copy of MainConcept SDKs.
Frank Schönberger
Frank Schönberger has been with MainConcept for two decades focused primarily on product management. With deep knowledge of customer requirements and engineering methodology, he is dedicated to collaborating effectively across Sales, Marketing, Product Management and Engineering to ensure MainConcept brings users the technology they need to achieve their vision. A graduate of RWTH Aachen University, Frank studied languages, teaching, history and politics.