Is it 2022 already? It doesn't feel like just one year ago that we were planning for 2021. To quote one of my favorite movie lines (from Ferris Bueller's Day Off), "Life moves pretty fast. If you don't stop and look around once in a while, you could miss it."
2022 is looking to quickly outpace the last few years. The beginning of the new year is the perfect time to take a look around at what we've accomplished and what we have to look forward to. That's why I am excited to host our first Coffee & Codecs discussion of the year centered around hot digital video trends for 2022.
Speakers
Our speakers are from IMG Arena, Endeavor Streaming and MainConcept, all companies that are part of Endeavor, an organization that touches all aspects of sports and entertainment. From the vanguard beginnings of the William Morris Agency to the advent of modern-day sports marketing by IMG to the bold formation of Endeavor, the Endeavor group of companies and their clients have been a force of innovation for over a century. The combined client roster of our speakers includes countless heavy hitters across sports and entertainment.
Christopher White, SVP & CPO, Endeavor Streaming
Christopher White is SVP & Chief Product Officer at Endeavor Streaming, where he oversees Product Management and Design. Endeavor Streaming is the leading global streaming provider across entertainment, sports, and media and through its platforms transforms viewer experiences by offering personalized, interactive user features. Prior to Endeavor Streaming, Chris held leadership roles at Xandr and FreeWheel, where he worked with major TV and Digital publishers to build the advertising infrastructure for streaming video. Chris holds a Bachelor's degree in Physics from Rutgers University, which is located in his home state of New Jersey.
Lee Radbourne, Head of Streaming, IMG Arena
As Head of Streaming at IMG ARENA, Lee Radbourne is responsible for the delivery of IMG ARENA's Live Streaming product suite and platforms. In 2021, Lee delivered a major platform upgrade for IMG ARENA's network of Sportbook customers. Lee joined IMG ARENA in 2020 from OTT Consultancy, where he advised clients and delivered strategic realizations through product innovation and use of leading-edge technologies. Lee relaunched beIN Sports streaming platform in Canada, France and the USA across 5 platforms (Web, iOS, Android, PS4 & Xbox). He also delivered successful new territory launches in Canada, Italy and the USA for DAZN streaming service. Lee studied at The Sixth Form College Farnborough, is an Associate Member of the British Computer Society (AMBCS) and holds numerous professional certifications. He has worked for industry leaders such as Airbeam, Massive Interactive, AT Internet and CloudSpec.
Deacon Johnson, SVP of IP Licensing & Strategy, MainConcept
Deacon Johnson, SVP of IP Licensing & Strategy at MainConcept, has 20+ years of experience in professional and consumer digital audio and video media technology. With six online technology patents, he brings in-depth knowledge as well as passion and creativity into all of his endeavors—which range from intellectual property creation and licensing to business strategy/development and marketing. Deacon has worked for organizations such as Prima Cinema, Inc., DivX, Yahoo! and Intel. He studied Business Administration at Oregon State University, enjoys spending time with his family and traveling and is a voracious reader of non-fiction audiobooks.
I will be asking our guests where they see the industry moving in 2022 and beyond. Topics will include 8K, codec development (HEVC, VVC), how the cloud fits in (if at all), the Olympics, and the FIFA World Cup. 2022 should be a banner year for Media, Entertainment & Broadcast and I look forward to hearing what those on the front lines are predicting and preparing to manage! Please join us.
If there is something that you would like us to cover this year in our technical blog, a webinar, or a Coffee & Codecs conversation, or if you have a question, feel free to email me at marketing@mainconcept.com.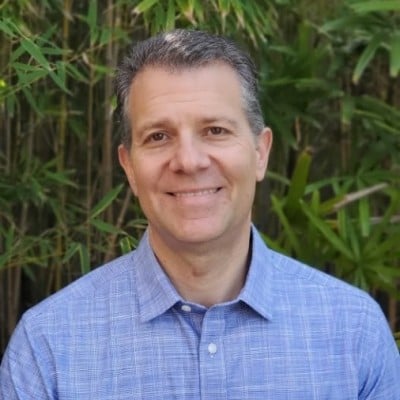 Geoff Gordon
As vice-president of Global Marketing, Geoff oversees a team of product marketing, communications, and creative design experts and drives the overall marketing direction of MainConcept. With over 20 years of experience, Geoff has worked for a prestigious roster of companies such as Qualcomm, Intuit, Silicon Graphics, Egghead.com, and McDonald's. Geoff earned an MBA from the Thunderbird School of Global Management and a BBA from the University of Wisconsin, Madison. When not working, Geoff enjoys hiking, running, Scuba diving, reading and travel.