Soccer, Fußball, football, futebol, كرة القدم…no matter how you say it, this magical time of year brings nations together to cheer their teams all the way to the finals of FIFA World Cup. This year, the first match kicked off on November 20, beginning four weeks of nail-biting, adrenaline-packed action. While the world focuses on the brackets and matches, as with many major sporting events, this year's FIFA World Cup is also turning into a great opportunity to test and showcase future technologies.
These new technologies cover a gamut of experiences on and off the field. Some are designed to minimize human error on the field, like semi-automated offside technology and video assist referee.1 Others, like new 5G deployments2, help those in the stands better stay connected and share with the outside world.
Fortunately, those of us watching from home have not been left out. This year will see the largest audience ever able to view matches in native 4K from the likes of Fox Sports, Tubi and YouTube.3
Enhancing video and audio quality using Brazil's TV 2.5 specification
One of the most notable consumer demonstrations is taking place in Brazil where the transition to HDR has rapidly accelerated thanks to the TV 2.5 specification, released last year by the SBTVD Forum. Globo, the largest Brazilian free-to-air television network, is trialing a live broadcast of every FIFA World Cup match using backward-compatible improvements specified within TV 2.5.
This is a big win for Brazilian football fans. The last major update to Brazil's terrestrial broadcast system, TV 2.0, happened in 2007. TV 2.0 introduced HD video as well as requirements for video delivered to mobile devices. A lot has happened in the intervening 15 years that warrants a full overhaul of the delivery system. However, such an undertaking doesn't happen overnight, it takes a lot of time to plan and execute, along with the budget to fund it. This is where TV 2.5 comes in. A transitory step, TV 2.5 enables existing TVs, even those dating back to 2007, to gain access to enhanced video and audio quality via software update. The enhancements are meaningful too. On the video side, this results in higher framerate and HDR image quality. TV 2.5 also adds MPEG-H Audio for a far more immersive audio experience than even many new TVs offer.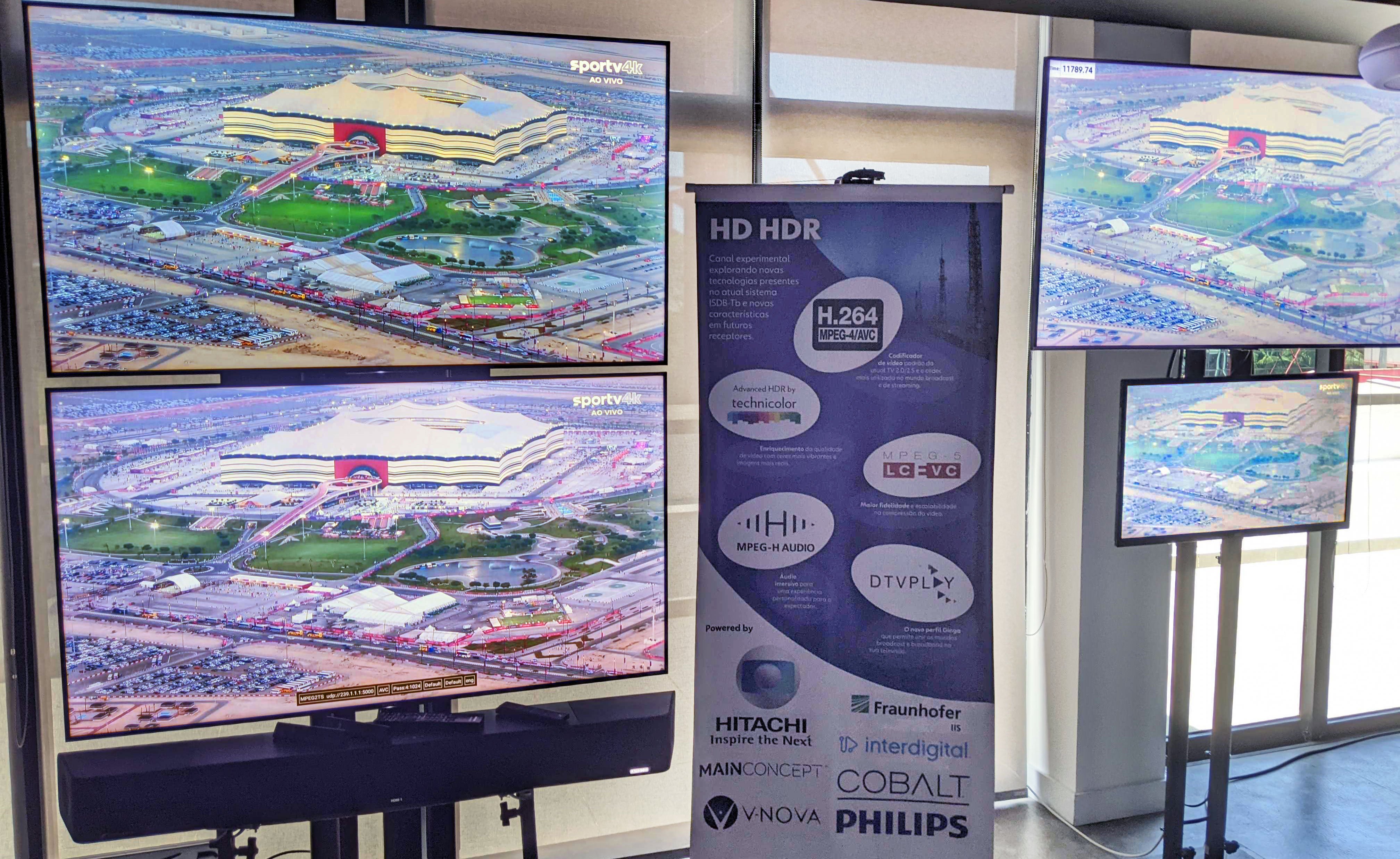 "SBTVD 2.5 trial in Globo office. Top TV shows the enhanced video using MainConcept AVC with LCEVC"
Bringing it all together for the FIFA World Cup Qatar 2022™
The MainConcept AVC SDK was chosen as the underlying video codec for Globo's TV 2.5 FIFA World Cup trials. In addition to MainConcept, other companies were involved to make these live broadcasts a reality. The illustration below shows how it all comes together.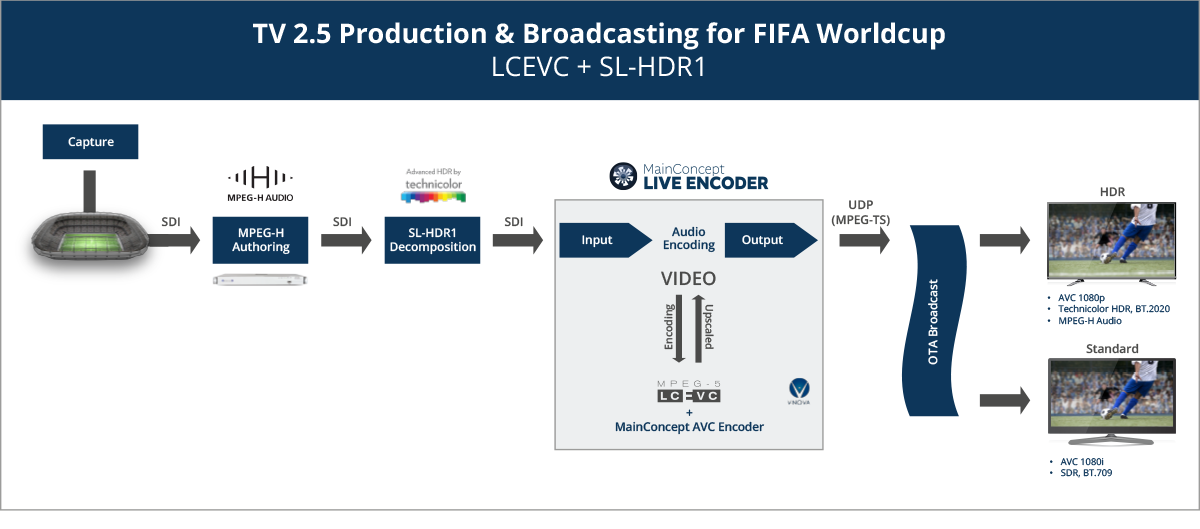 How technology is enabling Globo's World Cup broadcasts
You can hear more about Globo's innovation from their own Carlos Ribeiro, Specialist Technology Innovation, in this LinkedIn post. Now, let's go deeper into just what role each technology plays in enabling Globo's TV 2.5 compliant FIFA World Cup broadcasts.
MPEG-H, the audio standard introduced by Fraunhofer IIS, brings next-level immersion and dynamic audio attributes to consumers, regardless of the device. Through delivering audio spatially, MPEG-H provides more realism from above, below, and all around the listener. Here is how MPEG-H Audio fits into Globo's TV 2.5 trials:
Fraunhofer IIS installed their MPEG-H AMAU (Audio Monitoring and Authoring Unit) before the encoding. This device creates an additional control track instructing the MPEG-H encoder running within MainConcept Live Encoder on how to virtually organize the audio objects within the room, laying out the immersive audio experience.
MPEG-H Audio enabled devices, like soundbars or set top boxes, play back the immersive sound.
Devices that do not support MPEG-H Audio play back the AAC stereo track.
To learn more, check out this short video from Gabriel Thomazini, Audio Consultant at Fraunhofer IIS, where he visit's Globo's Innovation Lab and interviews Carlos Ribiero. It is in Portuguese, but the first half give a great behind the scenes tour of the facility.
InterDigital is the commercial distributor of Advanced HRD by Technicolor (a.k.a., SL-HDR). This video technology is designed to maximize the image quality of any HDR format, extending investments made by the industry and consumers in legacy infrastructure and devices. For TV 2.5, Advanced HDR by Technicolor does the following:
Converts HDR input signal into backward-compatible SDR video with SL-HDR1 metadata.
Uses the SL-HDR1 metadata on updated devices to upscale to Technicolor HDR on supported TVs.
Carries the SL-HDR1 metadata through all encoding and transmission steps to the consumer device.
Does not disrupt the operation of non-updated consumer devices, which continue working with SDR.
LCEVC (MPEG-5 part 2) adds an enhancement layer which, when combined with a base video encoded with a separate codec such as AVC, produces an enhanced video stream. V-Nova, LCEVC's principal developer, played an integral part in the Brazilian trials. Here's how:
LCEVC enhancement technology is integrated into MainConcept Live Encoder.
LCEVC converts the progressive 10-bit input signal into interlaced 8-bit 1080i video for backward compatibility on existing consumer devices.
LCEVC adds the enhancement layer to playback at full 10-bit progressive 1080p into the AVC bitstream as a separate SEI message.
Devices updated to support LCEVC use the SEI message to play back at progressive 10-bit 1080p.
MainConcept
All these technologies come together in the MainConcept Live Encoder, a commercial application designed so live workflows can ingest, prepare, and stream audio-visual content that is compatible with any type of consumer device. Live Encoder is responsible for capturing the SDI input signal, compressing the video (using the MainConcept AVC/H.264 Codec) and audio into the proper formats (LC AAC and MPEG-H), as well as keeping metadata messages for backward compatibility with existing devices. Live Encoder also uses the MainConcept MPEG Transport Stream muxer for packetizing all bitstreams for OTA broadcast transmission.
The result? Brazilian TV viewers with the software upgrade receive higher quality video and audio without the hassle and expense of upgrading the hardware! This benefits the environment as there are fewer TVs entering landfills, pushing off the upgrade decision until the next step in evolution, TV 3.0.
The transition from TV 2.0 to TV 3.0
TV 2.5 is transitory, in place as a bridge offering Brazilian TV viewers the ability to access higher quality broadcasts at home. On the other end of the bridge is TV 3.0, codified by the SBTVD Forum and expected to go live in 2025. TV 3.0 accounts for the innumerable changes over the past 20 years to how we view and listen to media, including personalized content, app-based experiences, 4K video quality, more audio channels along with richer audio signals, etc. It allows for where technology is today while building in headroom for those technologies not yet developed.
VVC/H.266 leads the future
Globo has a parallel TV 3.0 trial happing during FIFA World Cup. Many of the same participants are contributing their expertise here too. On the video side, the focus is on what is expected to be the next major codec, VVC/H.266. Like TV 3.0, VVC is geared towards the next wave of advancements, laser-focused on maximizing visual quality while delivering higher performance.
As with earlier codecs, MainConcept is ahead of the curve, releasing the software that will meet these development goals and more, leading to fully realized commercial installations in the coming years. To learn more about VVC, check out our most recent webinar, VVC: The Latest in Video Codec Technology.
To this end, the MainConcept VVC SDK and MainConcept VVC Plugin for FFmpeg have been released as beta software. Developers and end users interested in trying VVC and contributing to its future feature set are invited to apply for the VVC SDK and plugin beta.
Next steps to learn more
These are exciting times for sports fans worldwide, as well as those of us striving to deliver enhanced experiences no matter where the games are viewed. If you are interested in learning more about sports streaming, grab a brew and relax while you watch one of our Coffee & Codecs conversations, Technology That Brings Sporting Events to Fans.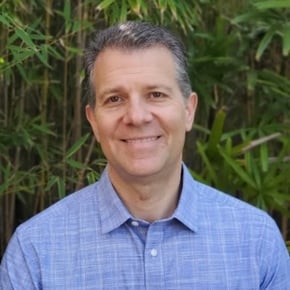 Geoff Gordon
As vice-president of Global Marketing, Geoff oversees a team of product marketing, communications, and creative design experts and drives the overall marketing direction of MainConcept. With over 20 years of experience, Geoff has worked for a prestigious roster of companies such as Qualcomm, Intuit, Silicon Graphics, Egghead.com, and McDonald's. Geoff earned an MBA from the Thunderbird School of Global Management and a BBA from the University of Wisconsin, Madison. When not working, Geoff enjoys hiking, running, Scuba diving, reading and travel.