MPEG-2, AVC, HEVC, VVC—video codec technology has evolved dramatically in the past decades, and today we are on the cusp of the next transition. If the past is any indication, the coming evolution is shaping up to be more of a marathon than a sprint, and MainConcept is ready for the test of endurance!
The Codec Marathon: How the Past is Influencing the Future will be the topic when our own Deacon Johnson returns to Streaming Media West to share important insights into codec development past, present and future. While MainConcept has been in the codec technology race for almost three decades and is renowned for their performance, quality and reliability, we have recently seen a lot of changes in the industry's terrain. Hint: the course is steeper, and the finish line is further away than you might think.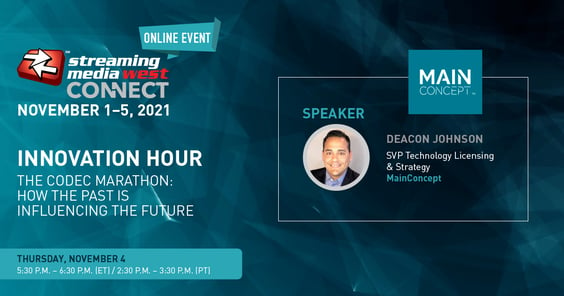 Deacon is our SVP of IP Licensing & Technology and has 20+ years of experience in professional and consumer digital audio and video media technology. With six technology patents, Deacon brings in-depth knowledge to his endeavors—which range from intellectual property creation and licensing to business strategy/development and marketing.
But those achievements don't hold a candle to what I admire most about Deacon, which is his boundless enthusiasm, passion and creativity. Around MainConcept, we joke about "Deacon-speakin," a term coined because once Deacon starts rolling on a topic, it is sure to get interesting! I hope you will grab your afternoon beverage of choice and join us (at no charge) on November 4, 2:30pm PT!
Sarah Cook
Sarah Cook joined the MainConcept team early in 2021 and brings deep expertise in product marketing, communications, and thought leadership. Sarah has worked for some of the biggest names in technology including Dell and Cisco and holds a B.A. in English Composition with a minor in Music from the University of North Texas. She sings with and serves on the Board of Directors for Panoramic Voices, a 501(c)3 choral collaborative in Austin, TX. When she is not working or singing, you might find her walking, riding her bicycle, or at a Pilates class.