So much has changed in the decades since digital imagery first entered our lives. In the early 1990s, resolution was measured in single pixels and storage in kilobytes. Digital image capture was primarily the realm of professionals, as those using it for commercial means were the only ones who could afford the hefty hardware costs. Clearly the world of digital imagery is no longer only open to an exclusive group. In the intervening decades, digital imagery has influenced almost every aspect of our professional and personal lives. The proliferation of this medium and rapid pace of advancement means that the technology used in 1993 is quite different than that used today. Suffice it to say, there is no room for complacency when it comes to digital video.
Video codecs play an integral, and often underappreciated, role in digital video. Since the early days of MPEG-2, codecs have been a critical component, providing the underlying functionality for an infinitely growing market. While codecs are sometimes an overlooked piece of the software stack, their successful design and implementation is vital to its overall performance.
Video codecs stay in the market for a long time. The most successful codecs benefit from a lifecycle in excess of 20 and even 30 years. Consequently, adoption and proliferation of a new codec takes time. MainConcept's SVP of Technical Licensing and Strategy, Deacon Johnson, presented an excellent synopsis of the codec lifecycle, The Codec Marathon: How the Past is Influencing the Future, at Streaming Media Connect 2021.
VVC: the next big video codec advancement
Today we are on the cusp of the next big video codec, VVC (Versatile Video Codec). Finalized in August 2020 by the Joint Video Experts Team (JVET) subcommittee within ISO and backed by notable companies including Broadcom, Fraunhofer, Intel and Qualcomm, commercial implementations are now starting to roll out. True to the lengthy codec lifecycle, it will be at least three years before the codec is in regular use. In the meantime, companies like MainConcept have put their collective of engineering and business knowledge toward realizing all that VVC has to offer over HEVC, with 40% better compression efficiency leading the list of improvements.
Many may wonder why we need another new video codec. While the rationale may seem complex, it can be broken down into just two key factors: compression and delivery. First, high-resolution content like 4K and 8K come with bigger file sizes. For devices like TVs and smartphones to utilize these higher resolutions without excessive buffering and other frustrations with the output, better compression is needed. While HEVC is excellent at compressing today's content, there will come a point in time when it just won't be enough. Second, the broad use of 5G and Wi-Fi 6 (and soon Wi-Fi 7) for data delivery allows for faster downloads and more efficient simultaneous connection to multiple devices. For digital video, this enables new ways to deliver content. VVC was developed to specifically address these compression and delivery scenarios.
For years to come, VVC will fill a broad array of video codec needs—from the usual suspects such as broadcast and streaming—to growing niches like VR and ultra-high-resolution digital signage. Broadcast will be the entry point for VVC, where the initial large-scale usage will happen. Broadcasters have a wide set of requirements that, once field tested, can be adapted to other verticals. Requirements include:
(Mostly) fixed bandwidth being tasked with handling increased resolution. The move from HD to 4K was a 4x resolution jump. 4K to 8K, that's another 4x. And expect VVC to be around as we move beyond 8K as well.
Demand for more channels as a source of subscription and ad revenue
Content delivery to a variety of devices and locations, including on the go
HEVC and other codecs are doing the job today and VVC is primed and ready to meet the needs of tomorrow.
Test the MainConcept VVC SDK and Plugin for FFmpeg today
MainConcept has been developing codecs since 1993, a year before MPEG-2 made its debut. Our team has had its hands in every major codec introduced since then, many of which are still in use by customers who have been using our software for over 20 years. Generation after generation, our codecs are relied upon for their quality, performance and reliability, and have earned numerous industry awards along the way.
Because of this history, we insist our codecs meet an extremely high bar before being made available to our partners. Today, we are delighted to announce our VVC SDK and Plugin for FFmpeg for beta testing, available to industry professionals. Interested in testing VVC and providing feedback? Register today.
VVC in action
MainConcept VVC is making the rounds during the second half of 2022. At SET Expo in late August, MainConcept and Fraunhofer IIS showcased two use cases involving VVC. The first recreated a typical video and audio playback setup by pairing VVC and MPEG-H Audio, highlighting the need for firm adherence to fidelity across broadcast. The second used the MainConcept Content Creation Lab, letting individuals interact directly with the creator tool to encode and deliver compliant output files. These next-gen video and audio technologies are the perfect pairing to realize truly immersive content in adherence with Brazil's SBTVD TV 3.0 standard.
We pushed VVC even further at IBC 2022 in September, streaming to the RAI convention center real-time, multi-layer content (4K, 1080p and 720p, an industry first!) in the cloud, encoding it in parallel on AWS using MPEG-DASH. This broadcast use case showed that improved immersive visual quality in more live channels is a reality today with VVC. Our IBC press release reveals more detail about our VVC efforts as well as the other technologies on display that week.

If you would like to learn more about the VVC codec, join MainConcept's Nicolai Otto, Director Product Management, and Frank Schönberger, Sr. Manager Product Management, for our upcoming webinar VVC: The Latest in Video Codec Technology on November 10 at 9am PT, or watch it afterwards on demand.
That's not all. To round out the year, look for the next VVC leap in November at Inter BEE. In addition, we have other monumental trials in process that we cannot yet reveal.
MainConcept has the essential ingredients
MainConcept holds a unique position in the industry. Our codecs are available as SDKs, applications and plugins, allowing individuals and companies with a wide variety of skill levels to incorporate our technology into their workflows. We also offer a portfolio of added components that include audio encoders, multiplexers and packaging options, all backed by a global team of highly experienced engineers. Try our products for free.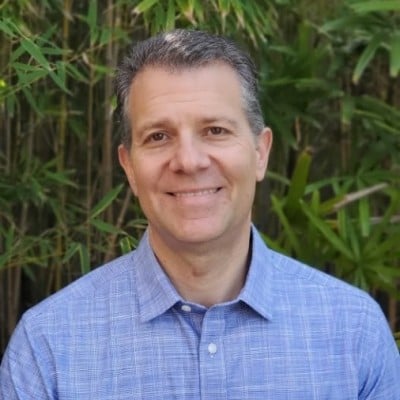 Geoff Gordon
As vice-president of Global Marketing, Geoff oversees a team of product marketing, communications, and creative design experts and drives the overall marketing direction of MainConcept. With over 20 years of experience, Geoff has worked for a prestigious roster of companies such as Qualcomm, Intuit, Silicon Graphics, Egghead.com, and McDonald's. Geoff earned an MBA from the Thunderbird School of Global Management and a BBA from the University of Wisconsin, Madison. When not working, Geoff enjoys hiking, running, Scuba diving, reading and travel.