The MainConcept team is excited to be heading back to Amsterdam for IBC this September. Billed as "the world's most inspiring content and technology event," IBC's fundamental vision remains to empower content everywhere. We've been at the heart of delivering high-quality video and audio content for three decades and our codec experts will be on hand to showcase the latest technology breakthroughs.
Indeed, a lot has changed since the last IBC, both in the industry and with our offerings. We know that IBC comes with packed schedules so here are a few reasons why you should make some time in your diary to come and see us on booth 7.C27.
1. Simplify broadcast and OTT video workflows
We understand that live streaming at a professional level can be complex, but it doesn't need to be. When dealing with fast-turnaround live content, it is more important than ever that those workflows can be as simple as possible, to reduce the margin for error and ensure broadcasters can deliver seamless coverage every time.
Our solutions are making common broadcast and OTT video workflows simple. That includes:
Our codecs, available as

Software Development Kits

, Applications and Plugins, make up the world's most extensive library of multimedia components, designed for encoding, decoding, multiplexing, streaming, and more. Having been built using a common API architecture, you can quickly add additional codecs and formats as you need them.
MainConcept Codec-Based Advertising Technology, enhanced server-side ad insertion incorporating ad banners that are personalized and engaging thanks to deeper codec integration.
MainConcept Live Encoder, a powerful all-in-one contribution as well as distribution encoding application with MainConcept HEVC, AVC and VVC (beta) codecs built in. Our intuitive user interface allows you to package content for multiscreen delivery, using common input sources, in real-time.

MainConcept FFmpeg plugin family

consists of a growing list of video and audio encoder and decoder options that can be easily integrated into existing FFmpeg-based workflows. Try VVC, Hybrid HEVC, AVC Broadcast, MPEG-TS, xHE-AAC, MPEG-H and more.
2. Minimize risk and futureproof your workflows
Never has it been more important to minimize risk with broadcast workflows. Broadcasters are facing more competition than ever before at the same time as consumers are reviewing their spending. Errors are not accepted as viewers will simply go elsewhere, so ensuring those broadcasts are delivered seamlessly and error-free at all times is vital. At the same time, the way in which video is produced, managed, delivered, and consumed continues to change rapidly and every company within the content chain needs to be prepared for that evolution.
We are building on a 30 year heritage of crafting technology to keep things running smoothly. With MainConcept, you get access to dedicated support by some of the industry's most brilliant engineers.
At the same time, we continually remain at the forefront of change, constantly adding features both in response to customer demand and market evolution. We are also frequently working alongside new standards and formats to define the future of broadcast.
3. Ensure stunning video quality, time and again
High-definition video has raised the bar for video quality. Ensuring that quality remains high for every broadcast is vital but can be challenging without the right tools in place. Across all of our professional encoding and decoding SDKs, applications and plugins, ensuring premium video quality remains paramount, meaning you can stream stunning high-definition broadcast quality every time.
This includes the video codecs that are the lifeblood of the industry, including AVC/H.264, HEVC/H.265, and the newest to market, VVC/H.266 , which lets you stream stunning high-definition broadcast quality while decreasing bandwidth requirements with each new codec generation.
4. Save time and money
Whether you are a technology vendor supplying the broadcast industry, a broadcaster, or OTT video provider, everyone is looking to save time and money while ensuring they are providing high quality solutions, services, and content. For the past 30 years, we have been helping companies in this industry save time and reduce cost thanks to our approach. Whether that is from drawing on the experience of our Professional Services team that can help optimize your video and audio workflows for efficiency and reliability, or thanks to our single API that means limited cost when you need to add extra codecs or formats.
Find us on booth 7.C27
With over 30 years in the industry, our codecs are used by some of the largest companies on the planet. Our mission is to always offer the highest quality, best performing, most reliable codecs, plugins, and applications for professionals in production and broadcast.

Come and see for yourself why we are the industry's most trusted name behind the scenes - https://www.mainconcept.com/ibc.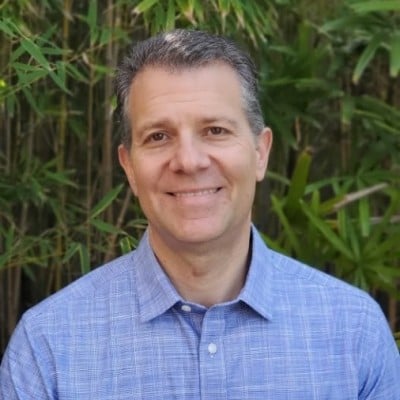 Geoff Gordon
As vice-president of Global Marketing, Geoff oversees a team of product marketing, communications, and creative design experts and drives the overall marketing direction of MainConcept. With over 20 years of experience, Geoff has worked for a prestigious roster of companies such as Qualcomm, Intuit, Silicon Graphics, Egghead.com, and McDonald's. Geoff earned an MBA from the Thunderbird School of Global Management and a BBA from the University of Wisconsin, Madison. When not working, Geoff enjoys hiking, running, Scuba diving, reading and travel.