Open Source remains vitally important for democratizing access to a wide variety of technology. In the broadcast world, this is making it easier for broadcasters and content providers to produce, contribute, and distribute high quality video content to viewers at home. There are numerous open-source video and audio codecs available that have been extremely beneficial for many broadcasters. However, open source is not the only option, and the choice depends very much on a number of factors. In this blog, we discuss how to determine the best approach for your unique workflow.
Is cost a limiting factor?
Open-source video codecs were introduced to give the industry free access to video compression technology, allowing more people to use the technology to shrink videos into more a manageable size for distribution. Open source codecs are believed to be free to the user. This is not always the case. For example, certain versions are free for non-commercial use, like testing, but not if used in a commercial setting. There is also a common misconception that open source means royalty free. This is not accurate, leaving some open source implementers open to future litigation from rights owners.
However, the cost of a commercial (i.e., non-open source) codec is not the only expense to be considered. Will you need to retain dedicated staff to implement and maintain the software? Is there more efficient software available for purchase that will save other costs in the long-run, such as bandwidth? Is it easy to update or extend your codec support or do you need to start from scratch with each new format?
Integrating a new codec and format can be time consuming. Each vendor – open source or commercial – has its own API for implementation, MainConcept is no exception. However, our single API covers the complete MainConcept codec portfolio, meaning that once one MainConcept codec is deployed, additional deployments of our codecs become even simpler, saving time and budget when you want to further extend your codec offerings.
Bottom-line: make sure you understand all the costs involved, not only the up front cost of purchasing a commercial codec.
How important is video quality?
Of course, all broadcasters place an importance on video quality and all content delivered to viewers needs to meet a certain criteria. However, consumer quality expectations do vary depending on the type of content. For newsgathering, for example, the emphasis is on quick turnaround, short clips, sometimes even captured in challenging locations possibly even using a smartphone or other non-professional recording devices. In those types of broadcasts, quality is less important and open-source codecs may well be the best choice for you.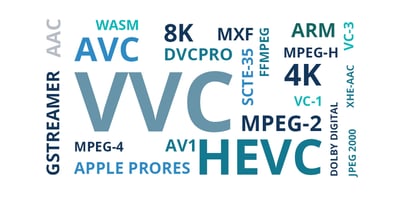 Indeed, open-source codecs do a pretty good job of delivering good enough video quality. That said, if you are looking for stunning video quality, especially if you are streaming high-definition content, then you may need to migrate to a standardized codec and format, which has been MainConcept's bread-and-butter for 30 years. Today, these include AVC/H.264, HEVC/H.265, and the newest to market, VVC/H.266 , which lets you stream stunning high-definition broadcast quality while decreasing bandwidth requirements with each new codec generation.
Does efficiency matter?
Naturally efficiency is important right through the video workflow, especially for live contribution scenarios where every moment matters to getting the video distributed to viewers quickly. Efficiency also matters for bringing down cost. For example, many encoding workflows require content to pass through twice to achieve the desired results. What if a codec was so efficient that only a single pass was required? That would save a lot of processing time, contributing positive results to the financial bottom line. Some codecs, including MainConcept's, are able to deliver in one pass.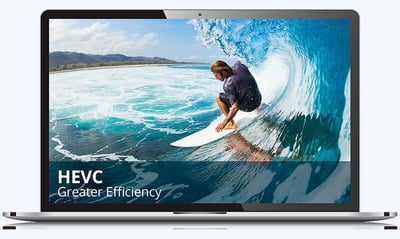 For example, if your use-case requires to process as many files as possible in parallel and keep quality high, a commercial codec might not be necessarily the answer, but you will definitely have a dedicated point of contact that can help you to tweak the settings in order to achieve your goal. In the end, any second and every bit you safe, will save you real money.
Do you need the flexibility to optimize your workflow?
One thing that is clear across the broadcast industry is that no two video workflows are the same. Many broadcasters are looking for flexible workflows that can be optimized and adapted, not only for current unique specifics but also to allow that flexibility as needs change. This has been particularly apparent over recent years, never before have broadcasters had to adapt so fast.
If your workflow is pretty standard and unlikely to change dramatically, then open source is absolutely good enough. If, however you need to tune and optimize your workflow or add special features, then you may find open source to be somewhat too rigid.
How many devices and platforms do you need to distribute to?
At MainConcept, we have been leading the way with video codec technology for 30 years. This does give us a head start in terms of adoption and means that our codecs are compatible across a wide range of devices and platforms. While open-source codecs are becoming more widely adopted, compatibility remains a challenge in certain scenarios. If you are thinking of going open source, make sure you check it against the devices and equipment you need first.
Are you likely to need support?
If you have a strong internal tech team with the knowhow required when things go wrong, then open source may have enough support for your needs. Equally there is a strong open-source community and a plethora of useful forums where people are working together to solve problems as they occur. If you don't have a big enough tech team or if you are delivering time-sensitive content, then community support may just not meet your needs. In that case you should look at codecs which come with dedicated support as soon as you need it.
If you don't have the right level of support in place, it can cause a number of significant challenges which will impact your experience, and potentially that of your customers. Knowing that bugfixes will happen swiftly and that you can talk to a real person to explain issues, is often crucial.
The open-source approach may also not be enough if you need to be able to adapt quickly to changing customer demands, which means the ability to request new feature development, for example. While open-source codecs also strive to be updated according to customer needs, it is generally not as easy for them to react in a timely manner to development requests. Planned development also comes with unclear timelines, which can be difficult to navigate.
Choosing the right codec
Choosing the right codec will ultimately come down to your individual needs. If budgets are tight and you are streaming video content where quality, while always important, doesn't need to be stunning high-definition, then an off-the-shelf open-source option could be good enough for your needs and worth the cost-saving you could achieve. As soon as you demand more – quality, efficiency, support – then you may just find the commercial solutions such as the video codecs from MainConcept are the only viable option.

Meet us at IBC from 15th – 18th September to find out more about our video codecs and see if they are right for your workflow.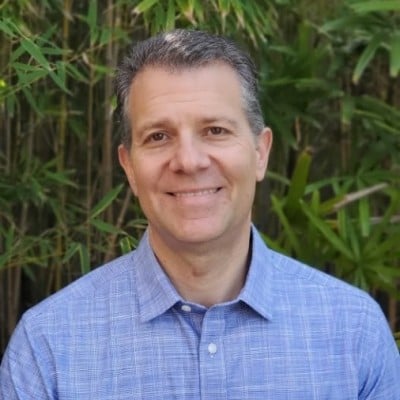 Geoff Gordon
As vice-president of Global Marketing, Geoff oversees a team of product marketing, communications, and creative design experts and drives the overall marketing direction of MainConcept. With over 20 years of experience, Geoff has worked for a prestigious roster of companies such as Qualcomm, Intuit, Silicon Graphics, Egghead.com, and McDonald's. Geoff earned an MBA from the Thunderbird School of Global Management and a BBA from the University of Wisconsin, Madison. When not working, Geoff enjoys hiking, running, Scuba diving, reading and travel.