It happened, it finally happened! Our biggest industry trade show, NAB (National Association of Broadcasters), took place in actual reality! While this was my first NAB Show, I am no stranger to the trade show circuit. The sights and sounds of the Las Vegas Convention Center (LVCC), and begrudgingly, "The Strip" too, were welcome doses of normalcy coming out of two years of anything but normal.
Do we need live conferences?
What a thrill it was to walk into the LVCC and see the MainConcept booth, something I had been staring at virtually in various forms for over two years. After all that time, sitting in the physical booth my team designed sharing the same space as my colleagues and industry peers made for a sweet return.

I must admit, as the pandemic drew on, events were cancelled, and business pressed forward, I questioned the need for us to exhibit at large-scale, big-budget conferences. While there will be inevitable changes to how events take place, I no longer question the need for them. What changed my mind? In the end, the sheer number of discussions, decisions and insights gleaned in just four days is so much greater than what could have been done from the home or office in one, three or even six months. I suppose the economy of scale showed itself in multiples!
8K on display
Since this is a technology blog, I would be remiss in not recounting any of the technology on display at NAB. But this part will be brief as I want to focus on the joys of being back together!
MainConcept went into NAB with a focus on 8K, zeroing in on our many SDKs, applications and plugins that have made significant strides forward in delivering best-in-class codec technology. Whether it be our HEVC SDK, Live Encoder application, or FFmpeg plugins, we have laid a foundation to bring 8K content into the mainstream. Our live demo showcased just that, encoding 8K content live in the cloud (via AWS) and giving visitors a real-time view of the system loads. It wasn't only MainConcept showing off 8K; check out the 8K Association vlogs published to their YouTube channel highlighting others.
Cloud-based workflows
Outside of 8K, I was pleased (but not surprised) to see cloud-based workflows as a dominant theme throughout the show. Although cloud has been growing in usage for quite a while, the past two years have spurred industry leaders to move faster, building more efficient setups with greater options than ever before. M+E Daily posted an insightful article about scaling production services in the cloud. 8K and cloud barely break the surface of the great technologies on display during NAB. But I'll leave the deeper dives to the hundreds of articles already published.
5 reasons live events will continue to take place
And now for the effusive portion! After some introspection during the drive home from Las Vegas, I came up with five reasons why I believe IRL (in-real-life) events will go on. Here they are:
1. Being in the same room counts. I will never knock the value of the virtual meeting, they got us through the past two years. We quickly embraced the shift to seeing each other on the computer screen rather than across the conference table. But almost the second the doors opened on NAB 2022, I could tell the vibe was going to be different—something I hadn't felt in, well, over two years. My colleagues each had dozens of highly productive meetings and I had the pleasure of meeting for the first time in person customers and partners from companies including Dalet, Fraunhofer, Pebble, Telestream and V-Nova.
2. Networking productivity. Like most, I have attended more than my share of virtual events these past two years. And since I was new to the industry as of late 2019, most of my new business relationships were virtual. It is amazing how after just a few video calls, meeting the same people in person, we were able to quickly establish a rapport. For me, this was particularly powerful interacting at events hosted by the International Trade Association for the Broadcast & Media Industry (IABM), Marketing Leaders Circle, and the 8K Association.
3. Impromptu discussions. Something I have not successfully reproduced in the remote work world is the impromptu discussion. IRL, this happens all the time as side conversations at meetings, comments overheard during a networking event, or chatting with someone randomly sitting next to you at lunch. I experienced many great examples of this during NAB, and was able to pass on these valuable connections and bits of information to my MainConcept sales and business development colleagues.
4. Team building. Not sure about your companies, but MainConcept has seen its share of ups and downs since March 2020. While our global teams have successfully moved forward remotely, before then we had grown accustomed to the luxury of meeting face-to-face at least once a quarter. NAB allowed us to reconnect over booth setup and dinners. Even though just ten of us from MainConcept made the journey to NAB, I already feel a renewed buzz throughout the company as we disseminate information and meeting notes across teams.
5. Happy hour. Virtual happy hours were a needed distraction in 2020, but a global industry means that while one person is toasting with champagne, another is sipping their first coffee of the day. NAB brought us all together into the same time zone, and the happy hour invitations show just how much we missed each other's company. Happy hour represents the culmination of the four reasons above—the perfect example for why being in the same room enhances productivity, fosters impromptu discussions, and fosters team building.
It's a wrap!
That's my wrap on NAB Show 2022. I look forward to meeting more of you at IBC (International Broadcasting Convention), if not before, for a long-overdue handshake, fist bump, elbow tap or virtual high-five! If you have questions or want to set up a meeting with our codec experts, you can alway contact us.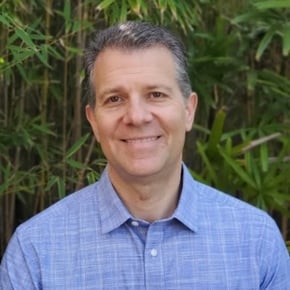 Geoff Gordon
As vice-president of Global Marketing, Geoff oversees a team of product marketing, communications, and creative design experts and drives the overall marketing direction of MainConcept. With over 20 years of experience, Geoff has worked for a prestigious roster of companies such as Qualcomm, Intuit, Silicon Graphics, Egghead.com, and McDonald's. Geoff earned an MBA from the Thunderbird School of Global Management and a BBA from the University of Wisconsin, Madison. When not working, Geoff enjoys hiking, running, Scuba diving, reading and travel.